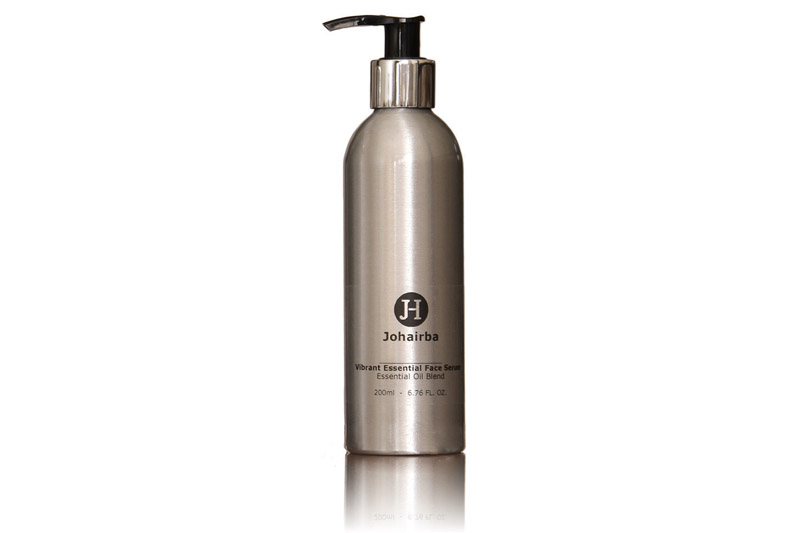 Vibrant Essential Serum
PRODUCT DETAILS:
The Johairba Treatment Serum has been specially blended to provide a rejuvenating night serum. It has evocative aromas of Lavender Fields and Woody undertones of Sandalwood with the sweet, resin like scent of Frankincense. It stimulates the regeneration of new cells and the elimination of old ones, improving the skin's elasticity. Helpful for all kinds of skin problems, including helping to reverse damage caused to the skin over time, such as sun damage.
HOW TO USE
1. Apply a drop on each fingertip of one hand.
2. Touch fingertips of both hands together.
3. Massage serum over face and neck, starting at the center, outward.
Ingredients: Prunus dulcis (Organic Sweet Almond), Buxus chinensis (Organic Jojoba), Lavendula augustifolia, (English Organic Lavender), Boswelli carterii (Frankincense), Santum album (Sandalwood), Carotol, Tea tree, Tocopherol (Vitamin E), Linalool*, Limonene* *occurs naturally in essential oils.
*Not for internal consumption.
Test patch on sensitive skin.
Do not use when pregnant.
Not for use by children under 5.
Always apply a test patch to the skin before massaging.
■ 100% Natural Fragrance
■ Free from artificial colours
■ Biodegradable
■ Made with Organic Aloe Vera
■ Free from Parabens and SLS
■ Suitable for vegans
■ Cruelty-Free